WOLVERINE SKELETON LEATHER JACKET (PRODUCTION TIME 4-12 WEEKS)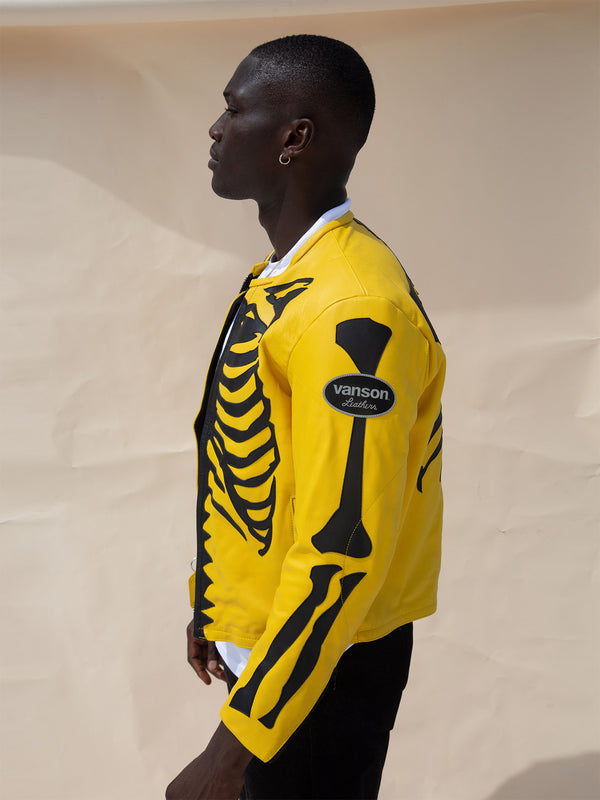 "RACING TO SUCCESS"
This limited edition collaboration combines Vanson Leather's iconic reputation in the motorcycle racing industry with Fly Geenius's Music and Fashion culture perspective in a fresh and authentic way.
The WOLVERINE JACKET is part of the first release of leather jackets and streetwear items referencing a current cultural sentiment:
"STAY ON TRACK. OBSTACLES ARE TESTS, NOT DEFEATS."
Vanson Leathers' meticulous attention to quality and the value placed on authenticity mirrors that of Fly Geenius, illustrating that an original idea can become an icon for a generation or a movement.

This collection channels those ideals, inspiring people to recognize the benefits of perseverance; a sentiment especially relevant in current times.
COLOR Yellow
STYLE Flat-Track Jacket
MATERIAL Full weight 1.4mm (3.5 to 3.75 oz) competition leather
SIZING GUIDE
Size 42 - Chest measures 48 inches --6 inches ease around the chest. 

Back length is 24 --Front 20 --Sleeves are 35 Nape of neck to Wrist. 

Bottom circumference sweep is 40.5 inches. 

These jackets are flat track style jackets cut bellow beltline. 

These jackets follow classic race suit design
HOW LONG DO I HAVE TO WAIT FOR MY JACKET
Production of your exclusive jacket takes 4-12 weeks as you are ordering a hand made product. It will be worth the wait because you'll wear this jacket a lifetime and the quality craftsmanship makes this the perfect hand-me-down item to your loved ones.
* In the event of delayed shipment, we will notify you via email provided on the check-out page.
* Please note this product is final sale. We encourage you to contact us if you are unsure about sizing or if you have additional questions.
PLEASE NOTE THIS ITEM IS FINAL SALE